This is Our Story - Becoming a Hemp Lab
Join us this week as we take a step back to explore Adams Independent Testing's history: who we are, how we got started, and why we love what we do!
For those of you who are unfamiliar with our background, Adams Independent Testing (AIT) is a third-generation, family-owned hemp testing operation with more than 50 years of experience grading, sampling, and analyzing agricultural commodities as North Dakota Grain Inspection (NDGI).
We've decided that it's important to share some history with our readers so you can get to know us better as we get to know you! The obstacles we've overcome operating NDGI, and the lifelong customers we've gained along the way, have helped shape the values and ideals instilled in AIT. Three key indicators that set us apart are our:
Decades of experience

Loyalty to our customers

Passion for what we do
Read on to learn more!
We Have Experience
AIT is a hemp testing operation located in Fargo, ND, dedicated to conducting unbiased, third-party hemp and cannabis analysis. What this means is that our lab is 100% focused on testing hemp and cannabis, no other commodities, allowing for daily analysis and quick turnaround times. Committed to generating quick results, we often produce certificates of analysis within one to two business days. We test plants, biomass, extracts, and finished products for:
THC and CBD compound potencies

Pesticides

Mycotoxins

Terpenes

Heavy metals

Moisture level

Residual solvents

Microbial contaminants

Water Activity
Founded in 2018, AIT is family-owned and operated by three generations:
First Generation: Steve Adams, Owner

Second Generation: Mike Adams, Owner/Partner

Third Generation: Kia Mikesh, CEO and Mark Adams, COO
We got our start in the testing industry with NDGI, a grain inspection agency responsible for testing more than 15 different agricultural commodities. Located in eight states and servicing customers nationwide, NDGI is currently one
of the largest agencies in the United States federally licensed to sample and grade grain under the United States Grain Standards Act (USGSA) and commodities under the Agricultural Marketing Act (AMA).
Licensed laboratories are held to the highest Federal regulations and quality standards, so we're accustomed to investing in state-of-the-art technology and conducting frequent internal audits of our standard operating procedures. All personnel employed at an approved agency must pass an examination and earn USGSA or AMA licenses. Lab equipment must comply with strict Federal standards and tight margins established by the Federal Grain Inspection Service. When the USDA approved the growth and production of industrial hemp, we were able to leverage this experience and dedication to quality assurance and control to found AIT.
As the 2018 Farm Bill was in the process of being passed, many people just assumed that we would move to test hemp, not fully understanding yet that the requirements were quite different. We knew it was what our customers wanted though, so we spent many late nights diligently researching whether this was the right step for us, and what we would need to get started if it was. Based on our findings, we ultimately decided to open a lab, separate from NDGI, strictly dedicated to hemp and cannabis. It just felt like the perfect fit for us.
We Are Responsive
AIT doesn't just sell tests. We're committed to being available, receptive, and friendly to our customers and clients, making lifelong friends along the way. We understand that it's our job to serve our customers in finding solutions that work for them and make sense. To put it bluntly, our research findings shocked us into action:
Poor customer service: This is putting it nicely. The customer service we encountered in the industry was, frankly, terrible. Maybe it was a lack of knowledge or confidence in the information put out, but people just weren't overly helpful or friendly.
Complicated instructions: The information made available was hard to understand. Like, difficult for

us

to understand. We can't imagine how overwhelming and frustrating it must have been for customers. Sometimes, it was hard to determine what they were even selling or offering.
Confusing sampling processes: It seemed there were a lot of hoops to jump through and many processes were much harder than they needed to be. To be successful, procedures needed to be simplified.
Outdated equipment: Because the industry was so new, frequent regulatory changes were made resulting in some equipment no longer meeting expectations or established standards.
Long turnarounds: It was common for organizations to inspect multiple commodities. In other words, they were using the same equipment to test commodities other than just hemp, resulting in longer turnaround times (ge

nerally around one week). For example, they ran grain on Wednesdays, hemp on Thursdays, etc.





While this method was more profitable for the lab because they could test bulk in batches, it resulted in longer waiting periods for the customer—sometimes up to a month or more during busy periods! Plants can change drastically in that amount of time (even resulting in crop loss), so this simply wasn't feasible.
Essentially, we didn't like what the industry had to offer and knew we could do better, but we had to act fast. We started by determining how we could counter the problems we were witnessing and worked on implementing the following solutions in response as we got up and running:
Establish open lines of communication

: This is just instilled in us from our history of serving in the ag industry. We have customers that call us just to check-in. We've even had folks text us at midnight about dropping off samples.

We always respond

. As AIT CEO Kia Mikesh stated, "Your business isn't a 9:00 to 5:00, why should ours be?" Building trust, proving we're reliable, and building relationships is vitally important to us. If it weren't for our routine clients, we wouldn't have a business.
Share information

: We want to be an integral part of your solution planning. We're continuously researching and learning so that we can educate our customers on what's best for each of their unique business needs and situations. Additionally, we routinely share helpful information on our

blog

and social outlets (

LinkedIn

,

Instagram

, and

Facebook

).
Make it easy

: We wanted to make things as simple as possible for our customers by providing resources needed to be successful, ensuring they have options, and being available for questions along the way.
Invest in reliable technology

: We purchased brand new, top-of-the-line supplies and equipment to ensure we endure regulation changes, meet quality standards, and exceed expectations set.
Conduct quick turnarounds

: By reducing bottlenecks, we were able to commit to a 24-hour turnaround in the grain industry, so we knew reducing current hemp result processing timelines was possible. We realized that by devoting our lab to hemp and cannabis only, we could run tests continuously as they come in, rather than in bulk batches throughout the week. We hired night shift staff to ensure we could meet this objective. In other words, "whether you have one sample or multiple samples, we're getting it in that day," noted Mikesh. "Everyone gets treated the same, and nobody gets pushed to the back of the line."
We Love What We Do
None of this would have happened if it weren't for our passion and dedication to the industry. With more than 50 years of experience, many of our team members have worked in the testing trade for most of their lives, and wouldn't have it any other way. Considering our passion for agriculture has been passed down for generations, I guess one could say that it's in our blood!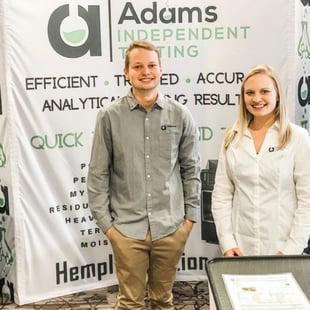 Great passion in this sector, comes with great responsibility. At AIT, we hold ourselves to the highest quality standards, even if the industry as a whole isn't there yet. The quality program that we've implemented at NDGI is recognized around the world, and we expect nothing less for AIT. As a start to holding ourselves to the same standards, we earned all of the Emerald Badges and are ISO 17025:2017 accredited!
Emerald tests are one of the only blind proficiency tests measuring hemp lab quality and safety. They have strict protocols in place for labs to comply with to earn badges and establish high industry standards. AIT tests frequently (not just one and done) to ensure we're consistently in line with current industry expectations.
We're also dedicated to continual learning and staying abreast of industry news, changes, and cutting-edge technology. Our leadership team enjoys it! We want our customers to have the latest information at hand when it comes to making decisions.
To accomplish this, our staff frequently attend, exhibit, and even speak at trade shows. We participate in continuing education courses for testing standards and methods. We subscribe to industry journals and read them every day. We keep up with producers and processors, so we form a mutual understanding of what works and what doesn't. Finally, we remain concentrated on hemp and cannabis only, so no other commodities divide our focus.
We Want to Connect With You
Hopefully, we've helped shed some light on how and why AIT started. Our goal from the beginning has been to establish a lab solely focused on the customer. Testing is vital to the success of most producers, processors, and retailers. By identifying and breaking down barriers, we aim to make the process quick and easy so you can continue to focus on your bottom line.
As always, we're all ears! Whether you have suggestions for improvement, questions about our services or procedures, or even just want to check in—we're here for you! Drop us a comment below, shoot us an email, or give us a call at 888.897.4367. Don't forget to subscribe for future updates.